---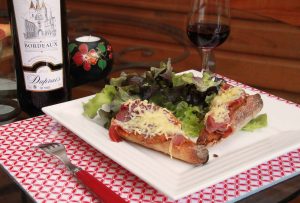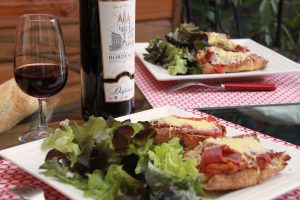 A  "brasserie" meal  with red Duprais:
For 4 peoples:
1 campaign or Tradition baguette
4 Bayonne ham slices
Gruyere
Salad
A homemade ratatouille, mixed.
2 courgettes
1 shallot
3 tomatoes
pepper 1/2
1 garlic clove
Herbs de Provence
For the ratatouille:
First heat shallot finely chopped, then garlic and pepper in olive oil. Then add the remaining vegetables and 1 tablespoon of water if necessary.
Cook covered for about thirty minutes. Then mix.
Toast the baguette cut in the oven or toaster. Then drop the mixed ratatouille, a half-slice of ham on each slice and gruyere.
Grill  for ten minutes in the oven.
Serve with green salad!