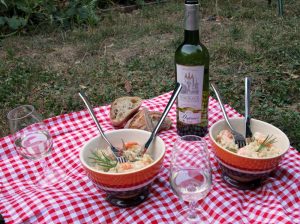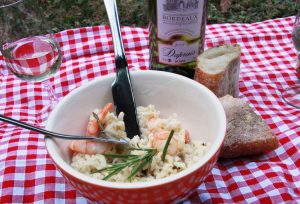 Perfect accompaniment to shellfish: serve Duprais dry white Bordeaux with this prawn' risotto.
---
For 4 people :
260g risotto rice
24 prawns
40 cl of white wine
1 L of vegetable or fish brotj
1 shallot
20 cl cream
Parmesan cheese (50 g)
Chives and rosemary
Fry the shallot in a little olive oil, then add the rice, rosemary, cook dry, stirring for about 5 minutes, then add the white wine and broth.
At the end of cooking rice, add cream, parmesan, season. Add the chives.
Fry the prawns in butter and place them on the risotto. garnish with a sprig of rosemary.